Break free from the computer desk and take your creative spirit with you to the outside world. Don't worry about weight, or lugging around lots of peripherals, special gadgets and the like. All you need is ordinary paper with this creative tool.
Just $88 USD buys you tons of creative freedom.
Digimemo Products Out of Stock and no longer in production
PenPaper 2 for 5 x 8 inch Size Notepads.
---
Unruled 5 x 8, A5 Size , 6 x 9 and Letter Size Notepads
For PenPaper 2® and For DigiMemo® A501/A502/692/L2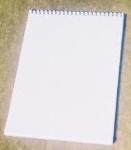 Tightly coil spiral bound to help prevent movement of pages while storing handwritten notes with PenPaper 2 or DigiMemo®. Low profile plastic coils do not interfere with the use of PenPaper 2 or DigiMemo®. A5, A4, 5 x 8, and letter size pads contain 50 sheets of 20 lb. bright white, high quality paper. All pads feature a card stock back cover. Pads in 6 x 9 format fit the DigiMemo® 692 only and are made from sheets of quality recycled newsprint paper. Letter size pads are your standard 8.5 x 11 inches dimensions.
Designers and Artists. These pads are great for drawing schematics, designs, sketches, and art work! They are useful for anyone in any profession.
Now you can select to have a creative cover on your pads. These covers feature delightful art work by Be.Be.
View the pad covers offered by clicking here. Include your choice in your order below.

$1.59 ea.
Specialty Letter, A5 Size , 6 x 9 Size or 5 x 8 Size Notepads
These bound notepads are for special uses beyond text handwriting on the PenPaper 2 or DigiMemo®. The options are...
Music Paper with 5 or 10 Staves on a page
Radial Graph Paper with 4 or 8 Concentric Circles
Grid Paper
$3.99 ea.
---